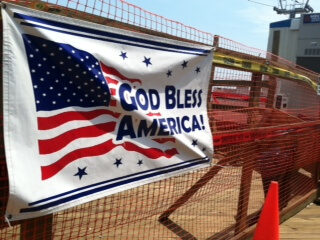 The following interviews are a sample of the nearly thirty collected so far. These interview have been selected to give a sample of the range of individual and community experience related to Hurricane Sandy along the Jersey Shore. We will be periodically updating this page in the coming months with additional interviews. Transcriptions are also available.
Hurricane Sandy Oral History Interview 001
Monmouth University student Veronica Dehais interviews Seaside Heights resident Patricia Armstrong in Long Branch on May 2nd, 2013. The interview focuses on Patricia's experience with temporary housing following the storm. The interview discusses the experiences of Seaside Heights residents who stayed during the storm, often based on well-reasoned and thoughtful consideration of the potential storm damage in regards to the media's portrayal of Sandy and previous storms. The interview also discusses the lingering emotional effects which continue for months following these kinds of events.
Excerpt: The wind was howling and all the sudden the house started feeling like something was slamming into it and I thought it must be the car in the front. I looked out in the back and my neighbor across the lagoon and the entire deck of their dock had broken loose and had washed into the back of my house. And, in pieces, it was slamming into my house. So, then I got really frightened that in fact my house might be knocked off its foundation.
Access PDF of Interview 1 Transcript
Hurricane Sandy Oral History Interview 002
Monmouth University student Kaitlin Redy interviews Monmouth alumnus Christian Ries, who remained at their apartment in Asbury Park. While Christian's apartment was relatively unaffected, the family home in Brielle was destroyed. In addition to common hurricane prevention, Christian discusses the role community plays in recovery efforts and how many families were forced to leave their homes on the Jersey Shore.
Excerpt: I know people who have houses in Union Beach and Seaside Park and they are being forced to leave. It's not a choice for a lot of people. Luckily, my parents were fiscally prepared. They had the right insurance, but it's not an option for a lot of people. 1 think there are a lot of people who are being forced to make choices whether or not they are going to pay their mortgage or rebuild their house, which results in them getting foreclosed upon, which is not a good situation. It's tough.
Access PDF of Interview 2 Transcript
Hurricane Sandy Oral History Interview 003
Monmouth University student Robert Berardo interviews Brick resident Tom Gallo. Their conversation focuses on the role shelters played in the days after the storm. Tom provides a powerful view into the workings of these facilities and how local businesses rushed to re-open and help their neighbors.
Excerpt: I would like to thank you and Monmouth University for doing this. It's a big task, and I think this kind of study of the storm is important because it will get a sense of the whole thing. If nothing else, it's a document that in hundred years will still be around.
Access PDF of Interview 3 Transcript
Hurricane Sandy Oral History Interview 004
Monmouth University student Christin Vivona interviews T. J. Manzo, a Long Branch police officer. T. J. provides an important perspective related to the critical role law enforcement played during Hurricane Sandy and the following days as communities began to assess the damage and begin recovery.
Excerpt: It's easy to judge people who have a different background from mine; but, then again, when something as powerful as a natural disaster occurs — it makes everybody equal. Everybody's fending for themselves. Everybody's in the same danger. It doesn't matter how much money you have or where you came from– you're just as equally in that danger. You know nothing is going to save you unless it's a helping hand or someone that's going to go above and beyond. So, the storm has definitely put everything in perspective.
Access PDF of Interview 4 Transcript
Hurricane Sandy Oral History Interview 005
Monmouth University student Dennis Owens interviews Brick resident Richard Pastore. Richard has lived in the area since the early 1980s and provides an important historical perspective to the growth of that town and how it relates to storm preparation. He offers a candid view of the frustration many residents felt regarding the response by local and national agencies.
Excerpt: There were people on jet skis and people on boats and stealing the gas… and it's not like these are poor people. If you push a person to an extreme you'll find out what they are made of, if you give people a push, you'll find out what they are. It was disgusting to me; it really was.
Access PDF of Interview 5 Transcript
Note: Deed of gift forms for each interview are on file with Dr. Edward Gonzalez-Tennant, Department of History and Anthropology, Monmouth University.