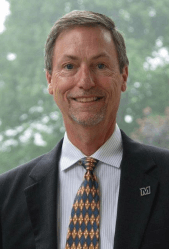 Welcome to the Monmouth University Library! We are happy to have you visit us, online or in person. Online, you will have access to hundreds of databases and e-journals, thousands of e-books that you can use 24/7/365, and, literally millions (over a ½ billion) of journal articles, chapters, newspaper articles, reviews and other materials online through Summon. We hope that you choose to visit the historic Guggenheim Memorial Library in person. The 1905 École des Beaux-Arts mansion provides an impressive and dignified setting for your intellectual pursuits. You'll find a very modern library, however, attached, with all the amenities, equipment, resources and expert assistance to meet your research and academic needs.
We believe that the most important aspect of your work at the Monmouth University Library is the connection we foster between you and the skills, people, and knowledge that are essential to your success. Whether you are new to college and the research process, or a seasoned veteran, consider the Library to be your academic home. Our professional staff provides personal research assistance at the reference desk and formal user education in many of your classes. We provide over 200 research guides on a variety of subjects. In these guides, and also on the Librarian/Liaison list, you will find our librarian subject specialists, who also serve as liaisons to Monmouth's academic departments. Please don't hesitate to contact these skilled research professionals, who are happy to arrange one-on-one appointments to assist with your work.
We want the Library to become an important and enriching feature of your life at Monmouth. Our 34,000 sq. ft. building is equipped with more than 100 computer workstations, individual and group study facilities, an information literacy lab (with 32 computers), multiple scanners and printers for your use. When the inner self calls for attention please visit our library café for refreshment and a break.
Our ongoing mantra is "our mission is your success." Despite the fact that you can access millions of things online through our databases, instantly, you also have access to over 2.1 billion holdings in over 72,000 libraries in 170 countries through OCLC Worldcat. Anything that the Library doesn't own or cannot directly access can be borrowed via our Interlibrary Loan Department. If you need something and can't find it, just ask!
Our library faculty and staff are committed to your success in achieving your goals. We're at your disposal, so please let us know how we can help. We're open to questions and suggestions. Information access and knowledge management are changing faster than ever these days, and we want to make sure that you are prepared and experienced information seekers, no matter where you travel in life.
Visit the Library website to view our hours and notification of current events. Join us on Facebook at http://facebook.com/monmouthuniversitylibrary. Even better, stop in and ask us some questions.
I'm looking forward to meeting you and I'm available to answer any questions or address any concerns. Give us a call or contact me directly.
Again, welcome.
Kurt W. Wagner, University Librarian